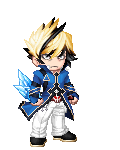 "I am the top ranking Dragon Tamer in the world, Ramsey Kaiser!"
—Adrian Sicily
Ramsey Kaiser, or just commonly referred to as Kaiser, is the majority sharehold and CEO of his own multi-national Dragon Tamer Facility, KaiserCorp, who aims to be the Master Dragon Tamer. To accomplish this goal, he must defeat his arch-rival, Yudai Tsukumo. Kaiser is largely considered an anti-hero, as his motives are usually ego-centric and his relationships with the protagonists are antagonistic, but in several cases his actions are towards a good cause. He is the Sacred Guardian of Blue Dragon. He is the older brother of Roku Kaiser.
First Appearance (Anime)
Dragon Tamers! Episode 1
Appears in
Dragon Tamers!
Age
17 (Dragon Tamers!)
Team
None
Duel Cards
Blue Dragon, Rapier, & Hyterrion
Beasts

Blue Dragon
Rapier
Hyterrion

Family

Roku Kaiser (Brother)
Giovanni Kaiser (Uncle)
Kaiyura Kaiser (Cousin)
Description
Edit
Appearance
Edit
Personality
Edit
Relationships
Edit
Battle Record
Edit
Dragon Summit Arc (Season 1)
Opponent(s)
Episode(s)
Outcome
Yamino Tsukumo
1
Win (Off-screen)
Yudai Tsukumo/Ra Yudai
1
Lose
Kanicho Mubawa
8
Win
Diaso Wheeler
16
Win
Yudai Tsukumo
22-24
Win
Lance Drago
26-27
Lose
Paragon (tag w/Ra Yudai, Diaso & Barron)
44-45
Win
Showdown City Arc (Season 2)
Opponent(s)
Episode(s)
Outcome
Random Duelists
52
Win
Simulation Duelists
54
Win
Oori & Gori (tag w/Ra Yudai)
70-73
Win
Zara Ishtaru
93-94
Win
Kaiyura's Story Arc (Season 3)
Opponent(s)
Episode(s)
Outcome
Vector
108-109
Win
Kaiyura Kaiser
114-116
Lose
Giovanni Kaiser
119
Win (Flashback)
Giovanni Kaiser
120-121
Win
Showdown City - Finals Arc (Season 3)
Opponent(s)
Episode(s)
Outcome
Ra Yudai, Dark Abidos, & Diaso
122-124
Win; 2nd
Yudai Tsukumo/Ra Yudai
129-134
Lose
Diaso Wheeler
135-137
Win
Community content is available under
CC-BY-SA
unless otherwise noted.